Crow's feet and frown lines are among the most common wrinkles that develop with age. Most people begin to see them in their mid-twenties, and they can make you appear tired, mad, and aged. BOTOX injections are a great way to reduce these noticeable signs of aging and feel great about your skin in Puyallup, WA.
BOTOX is a natural, purified protein injectable treatment that continues to rank number one among all cosmetic procedures. Dr. Ladie C. Araña-Domondon performs BOTOX regularly and works closely with each patient — so they achieve safe and successful results at Concordia Star Medical Aesthetics. Call us to learn what this treatment can do for your skin today.
Who is a candidate for BOTOX?
In 2002, BOTOX received FDA approval for treatment of the glabellar wrinkles or frown lines in people ages 18 – 65. Since then, millions of men and women have received BOTOX injections. Our staff can assess your concerns and recommend the best treatment options moving forward.
BOTOX is an excellent choice for adults with unwanted Crow's feet and frown lines. Dr. Araña-Domondon can also provide a subtle brow lift by placing either BOTOX, Dysport®, or XEOMIN® around the brow line. We can answer your questions and address any concerns about BOTOX during an initial consultation in Puyallup, WA.
What to expect during BOTOX
Concordia Star Medical Aesthetics can provide BOTOX injections on the same day as your free consultation. You may experience a small amount of discomfort during treatment, but these injections are generally well-tolerated by most people. Our aesthetic team can make sure your experience is as comfortable and pleasant as possible.
Botox Injections – Before and After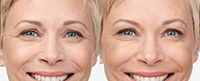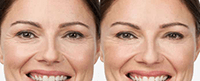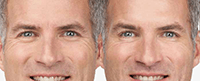 How long is recovery after BOTOX?
Most patients love BOTOX because it truly is a lunchtime procedure. Although we don't recommend any strenuous exercise or activity for one or two days, you can immediately return to work. You should begin to notice youthful results within just a few days. Remember that regular treatments every 3 – 6 months are generally recommended to keep your outcomes fresh and long-lasting.
What is the right age for BOTOX?
Crow's feet and forehead wrinkles begin to form as we enter our mid-20s. This is probably the best time to prevent fine lines from forming or getting worse. Early intervention is the perfect way to maintain youthful skin for years to come. If you're still unsure if now is the right time for BOTOX, Dr. Araña-Domondon can provide information and guidance.
How much do BOTOX injections cost?
BOTOX comes in 50 and 100 unit vials. We usually recommend a set number of units based on the severity and location of the wrinkles. For Crow's feet or wrinkles between the eyes, treatment might vary from 10 – 30 units. Concordia Star Medical Aesthetics charges per unit, and we regularly feature new customer specials for those looking to try BOTOX for the first time.
What is the BOTOX Brilliant Distinctions program?
The Brilliant Distinctions program is one of the best ways to save money on your BOTOX injections. Prior to your consultation or BOTOX treatment, enroll at the aforementioned website and remember to bring in your member number. Patients in Puyallup, WA, can earn rewards for future treatments, saving you money in the long run!
Smooth out wrinkles and lines
Dr. Ladie Araña-Domondon was recently voted among the "Most Loved Injectors " in 2017 by RealSelf and "Best Doctor of South Sound " in 2019, 2018, 2017, and 2014. She provides the utmost care and listens carefully to the concerns of each patient in order to help them achieve their best results as a leading injector. If you are interested in reducing fine lines and creases in Puyallup, WA, call Concordia Star Medical Aesthetics for your custom BOTOX treatment plan today.
BOTOX® Reviews
"This woman is the best! I came to her at first to have a complication from another injector fixed and I'm so glad I did! I had had a previous injector place filler too deep in my face into my sinuses with resulted in a cellulitis infections months later. Dr. Domondon is a life saver, she explained what we had to do to fix it and even eased into the correction with two different dissolving sessions to make sure my body tolerated it ok the first time. She always makes you feel so at ease and always makes sure to check up on you after all procedures and make sure everything is alright and you're happy with your results! Going to an actual physician for injections is a game changer! After getting Botox from her I realized all these nurse injectors I had been going to had no idea what they were doing. The placement of them and even the feeling of the injections feels better. When coming to her with a new idea for a treatment she is always upfront and honest about the expectations and will never do something she feels will have an adverse outcome. I've now scheduled 3 more new procedures with her and I'm so excited! I'm going to look better than I ever have"
- A.M. /
Google /
Sep 26, 2021
"We went in for Botox, it was our first time doing it and Dr. Domondon and her staff was amazing!!! She listen to our concerns and questions, and we love our results. Going back in a week for fillers ( first time ) super excited and definitely will keep up with my botox. I totally recommend visiting her office."
- D.E. /
Google /
Dec 15, 2021
"When I looked for a place to go for Botox and Lip Filler I really wanted an MD not an RN to do these services. I did my research and came across Dr. Domondon, she was perfect. She gave me suggestions and was up front about prices of the services I was interested in. She really is very knowledgeable and gives quality services. As a medical professional myself, I truly recommend Dr. Domondon!!"
- S.M. /
Google /
Jan 23, 2022
"It's only been a few days after my lip filler appointment, & still have a little bruising but wow - I can't say enough how painless & amazing my experience was at Concordia Star. I often travel internationally for work, & being an model you can feel a slight pressure to keep yourself looking as Symmetrical as possible (my lips always being a bit of a self conscious issue with photographers needing to tweak them in editing every so often), so I thought now's the time! Dr. Domondon helped change my life & career for the better, she's a total rockstar at what she does & I believe for anyone who is thinking about getting filler or Botox, you can totally count on Dr. Domondon to give you the best results 🙌"
- F.A. /
Google /
Feb 04, 2022
"Dr. Domondon is a remarkable physician and cosmetic injector. I have had fillers and Botox for over 30 years by many different providers and my results with the treatment I received from Dr. Domondon are by far the best. I worked in the aesthetic industry for many years and am knowledgeable about the products and the correction that can be achieved, but only in the hands of a very well trained, experienced injector will you truly get optimum correction. Dr. Domondon has the eye of a true artist and her injection techniques are exceptional. She listened to my concerns about my aging face. I sincerely thought it was time for another facelift, but she proved me wrong! She told me I did not need one and that she could address my concerns without undergoing more surgery. I am beyond thrilled with the results! I highly recommend Dr. Domondon and the wonderful staff at Concordia Star Medical and Aesthetics!"
- L.D. /
Google /
Feb 09, 2022
Previous
Next
Related Procedures
Related Posts