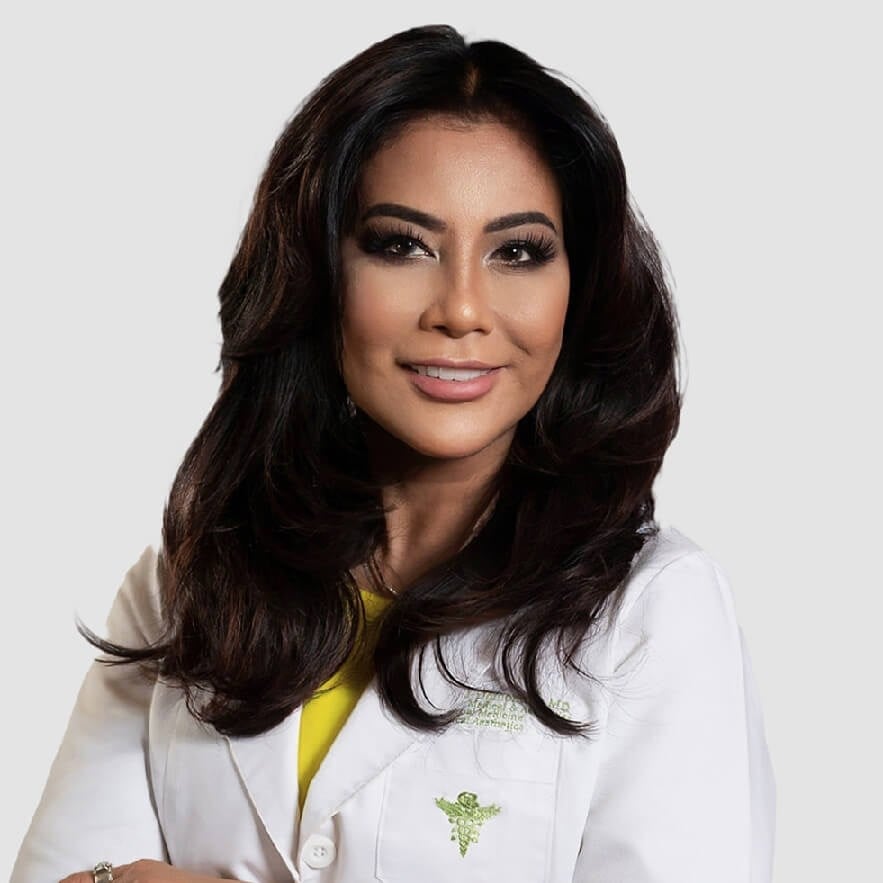 With an eye for creating natural radiance, Dr. Araña-Domondon provides high-performance aesthetic procedures in a tranquil, state-of-the-art environment. Your experience is much more than just rejuvenating your appearance, and she believes in empowering clients to achieve their aesthetic goals by carefully discussing options and creating a treatment plan together. By combining artistic talent with medical expertise, Dr. Ladie C. Araña-Domondon is committed to delivering the safest and most effective aesthetic treatments.
Dr. Araña-Domondon is certified by the American Board of Internal Medicine. She is a graduate of the University of Santo Tomas, received several awards as a resident at the University of Texas, and went on to become one of the original internists at MultiCare Good Samarit
an Hospital. She has since earned a reputation among her patients for her thoroughness and high-quality care. Having fallen in love with the area, she established her own internal medicine practice in downtown Puyallup, WA. Dr. Araña-Domondon expanded her practice in 2013 to include aesthetic medicine where she combines her artistic side with her medical expertise.
She attributes the success of her aesthetic practice to her patients who organically spread the word of her work. Dr. Araña-Domondon has been awarded multiple Patient's Choice Awards (2008, 2009, 2011, 2012, 2014, 2016, and 2017), the Best Doctor of the South Sound by South Sound Magazine 2022, 2021, 2019, 2018, 2017, and 2014, The Top 5% Most Loved Injectors 2017 by RealSelf and most recently Voted in 2021 as Top 100 Best Aesthetic Injectors in America.
Reviews
"When I looked for a place to go for Botox and Lip Filler I really wanted an MD not an RN to do these services. I did my research and came across Dr. Domondon, she was perfect. She gave me suggestions and was up front about prices of the services I was interested in. She really is very knowledgeable and gives quality services. As a medical professional myself, I truly recommend Dr. Domondon!!"
S.M.
Google
"It's only been a few days after my lip filler appointment, & still have a little bruising but wow - I can't say enough how painless & amazing my experience was at Concordia Star. I often travel internationally for work, & being an model you can feel a slight pressure to keep yourself looking as Symmetrical as possible (my lips always being a bit of a self conscious issue with photographers needing to tweak them in editing every so often), so I thought now's the time! Dr. Domondon helped change my life & career for the better, she's a total rockstar at what she does & I believe for anyone who is thinking about getting filler or Botox, you can totally count on Dr. Domondon to give you the best results 🙌"
F.A.
Google
"I am so happy I found Dr. Domondon. It was my first time getting lip fillers. I told her how I wanted my lips to look and she delivered. She did exactly what I envisioned. The process was so smooth and her staff was super friendly and helpful. It has been two weeks & my lips are healed & they feel smooth & amazing. I had no issues with the injection & healing process. I have gotten lots of positive compliments on the shape & fullness. The place is so clean and the bonus for me was seeing Crystal spheres at the lobby. No wonder the energy is amazing! Thank you Dr. Domondon and team for your wonderful customer service & work. I have found my most favorite lip team & I'm never looking else where!"
J.G.
Google
"Dr. Domondon is a remarkable physician and cosmetic injector. I have had fillers and Botox for over 30 years by many different providers and my results with the treatment I received from Dr. Domondon are by far the best. I worked in the aesthetic industry for many years and am knowledgeable about the products and the correction that can be achieved, but only in the hands of a very well trained, experienced injector will you truly get optimum correction. Dr. Domondon has the eye of a true artist and her injection techniques are exceptional. She listened to my concerns about my aging face. I sincerely thought it was time for another facelift, but she proved me wrong! She told me I did not need one and that she could address my concerns without undergoing more surgery. I am beyond thrilled with the results! I highly recommend Dr. Domondon and the wonderful staff at Concordia Star Medical and Aesthetics!"
L.D.
Google
"For those of you considering fillers yet are hesitant.. DONT BE If you're anything like me and looking for options save yourself the trouble and do it here with Dr . Domondon. I've been wanting to get lip fillers for a few years to see if I could correct something I didn't like . I found ppl online that use the "pen" and decided to try it . Please don't make the same mistake I did just because its a cheaper option... the pen is so dangerous and can damage your lips for life! Do it the right way , educate yourself and get your fillers done by a real professional Dr .Domondon was great, I highly recommend her . Thanks to her I now love my lips !"
J.
Google
Related Posts