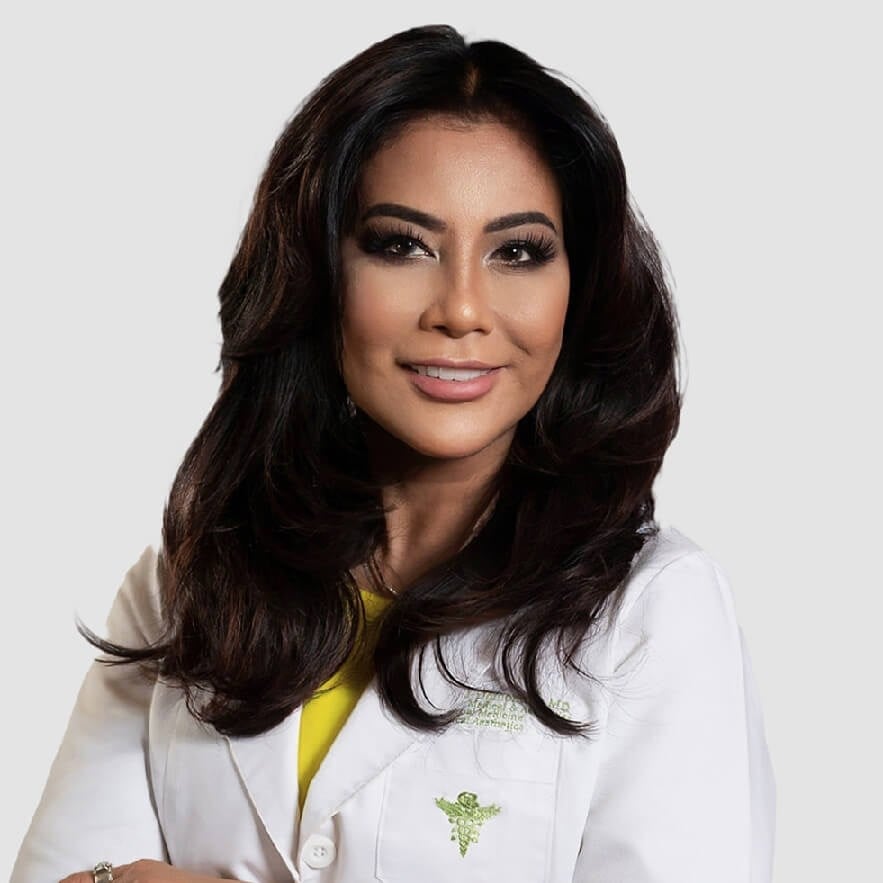 With an eye for creating natural radiance, Dr. Araña-Domondon provides high-performance aesthetic procedures in a tranquil, state-of-the-art environment. Your experience is much more than just rejuvenating your appearance, and she believes in empowering clients to achieve their aesthetic goals by carefully discussing options and creating a treatment plan together. By combining artistic talent with medical expertise, Dr. Ladie C. Araña-Domondon is committed to delivering the safest and most effective aesthetic treatments.
Dr. Araña-Domondon is certified by the American Board of Internal Medicine. She is a graduate of the University of Santo Tomas, received several awards as a resident at the University of Texas, and went on to become one of the original internists at MultiCare Good Samarit
an Hospital. She has since earned a reputation among her patients for her thoroughness and high-quality care. Having fallen in love with the area, she established her own internal medicine practice in downtown Puyallup, WA. Dr. Araña-Domondon expanded her practice in 2013 to include aesthetic medicine where she combines her artistic side with her medical expertise.
She attributes the success of her aesthetic practice to her patients who organically spread the word of her work. Dr. Araña-Domondon has been awarded the Best Doctor of the South Sound by South Sound Magazine 2022, 2021, 2019, 2018, 2017, and 2014, multiple Patient's Choice Awards (2008, 2009, 2011, 2012, 2014, 2016, and 2017), The Top 5% Most Loved Injectors 2017 by RealSelf and most recently voted in 2021 as Top 100 Best Aesthetic Injectors in America.
Reviews
"So happy with my visit today with Dr. Domondon! I've been considering lip fillers for years but apprehensive to looking unnatural. I have a bad case of RBF which has worsened with age and gets frustrating with everyone thinking I'm always mad 😅; my small upper lip and natural assymetrical lip line that sometimes looks like a snarl 🤣, seems to make RBF more pronounced. I explained to her my concerns and she was very kind, patient and professional. She was honest in explaining the anatomy and healing process to maintain authentic expectations. She explained things in detail and worked seamlessly with her nurse. Her competence and experience is very apparent. The whole staff was very kind, professional and knowledgeable. Facility is very clean and well maintained. I am on day 0 s/p treatment and I am very pleased with the initial results! I look forward to future results as things settle with the lip fillers. Highly recommend!!"
B.
Google
"I loved my experience here. I am almost 50 and have never had fillers or botox. I researched who to go to in and around the puyallup/tacoma area. Dr. Domondon's name came up and was highly recommended. I am so glad I came to her!! She answered questions and told me what I would need to achieve the look I wanted. I am so happy. Botox is an absolute game changer! I would have done it years ago had I known the dramatic change it would make. I came back for fillers and my experience was great. The staff is wonderful. ❤️❤️❤️"
B.M.
Google
"Dr. Domondon is the best! I needed to keep my lip filler very natural looking for my job and she perfected that while still giving me the fullness and shape I wanted for my lips. She's taken the time to build my filler to where I want it without anything drastic. I would recommend her to anyone, beginner or seasoned with cosmetic procedures! I've been going to this office for almost a year and I still get excited for every appointment!"
T.W.
Google
"I have recently been treated by Dr. Domondon and I am very pleased with the results. She is definitely one of the best and I will definitely go back for more!!!🤩"
M.B.
Google
"i've actually only been here for the hydrafacial (my mom got one too) but our experience was nothing below amazing!! super friendly, helpful staff and along with our facials, we got recommendations for products & overall care. i wasn't pressured into buying anything at all but im very glad i decided to because i've never felt or looked better in my own skin, even a year after i got the facial. i got the pictured face pads as well as the elta MD tinted sunscreen and they've made the world of a difference in addition to my typical care routine. they're on the pricier side of course, but dont be scared to invest in your skin!! i hope to be back for other services and work with the amazing dr domondon, who i've met at other events, soon :)"
A.D.
Yelp
Related Posts